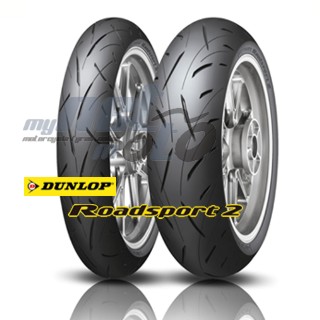 Dunlop Roadsport 2 on Euroopas saadaval !!
Dunlop Roadsport 2 põhineb tavapäraste toodete neutraalsel käitlemisel "SPORTMAX RoadSport", kahekihiline turvisekonstruktsioon, mis kattub kahte tüüpi ühenditega üles ja alla ("COMPOUND-mängija jõudlus") on täiustatud, et parandada eluiga ja haarduvust jõudlust.
Kahte tüüpi pinnakihisegu, millel on kõrge haarduvus ja kulumiskindlus, ning sügavkihiline segu, millel on suurem soojuse tekkefunktsioon, toimib tõhusalt ning see suurendab eluiga ja haarduvust ning demonstreerib stabiilset haardumist kuni rehvi kulumise lõpuni.
Lisaks on uued profiilid ja mustrid, mis kasutavad DUNLOPi ainulaadset "kambri viimase häälestamise tehnoloogiat", võimaldanud stabiilset käitlemist.
UUS 2019
Suzuki GSXS 1000 Katana / Kawasaki Ninja 650 jaoks erinevad spetsifikatsioonid "M" "W" OE
DUNLOP ROADSPORT 2 saate osta ja tellida nüüd veebis ee.myNETmoto.com pood. Soodushinnad ✓
Samuti leiate selle mootorratta rehvi kohta palju laialdasi kogemusi ✓ Ülevaated ✓ Ülevaated ✓ Läbisõit ✓ Testige ✓.
Tehnilised kirjeldused

Vali Mark
DUNLOP
Tyre Profile
ROADSPORT 2
Vali tüüp
Sport /
Rehvide suurus
esiratas: 120/60 ZR17, 120/70 ZR17
tagarehv: 150/60 R17, 160/60 ZR17, 180/55 ZR17, 190/50 ZR17, 190/55 ZR17, 200/55 ZR17
carcass
Tubeless / Radial /
Speed Index
W
Loadindex
55, 58, 66, 69, 73, 75, 78
Production Country
JP
SPORTMAX Roadsport 2 is based on the neutral handling of conventional products "SPORTMAX RoadSport", two-layer tread structure overlapping two types of compound up and down ("The performance of the COMPOUND-player") has been enhanced to improve life performance and grip performance.

Two types of surface layer compound with high grip performance and wear resistance performance and deep layer compound with increased heat generation function effectively, and it enhances life performance and grip performance and demonstrates stable grip performance until the end of tire wear.
In addition, new profiles and patterns utilizing DUNLOP'S unique "Chamber last tuning Technology" have enabled stable handling performance.
10.02.2020
Dunlop Roadsport 2 new 2019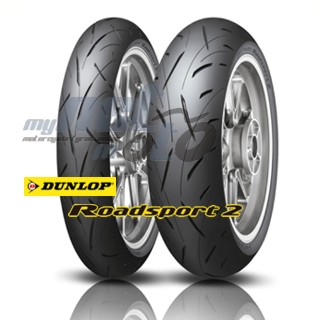 ---
10.11.2017
DUNLOP ROADSPORT 2 OE motorcycle tyre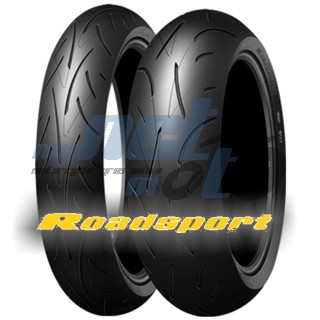 ---
hind:
119.40

€
(sh. Käibemaksuta. laevandus)
hind:
118.19

€
(sh. Käibemaksuta. laevandus)
hind:
123.23

€
(sh. Käibemaksuta. laevandus)

Läbimüüdud.
Juba tellitud. Tarneaeg puudub

Läbimüüdud.
Juba tellitud. Tarneaeg puudub
hind:
142.40

€
(sh. Käibemaksuta. laevandus)
hind:
152.72

€
(sh. Käibemaksuta. laevandus)
hind:
173.72

€
(sh. Käibemaksuta. laevandus)
hind:
165.89

€
(sh. Käibemaksuta. laevandus)
hind:
197.05

€
(sh. Käibemaksuta. laevandus)